Giulio Strozzi was the poet and librettist who recognised Barbara as his adopted daughter on 6 August 1619.
She was baptised in the church of Santa Sofia in the Cannaregio district (sestiere) of Venice and officially welcomed into to Strozzi family. Barbara had probably always been part of the Strozzi family as she was his illegitimate daughter by Isabella Garzoni, a long-time servant.
Barbara was lucky. Unlike most women, she was encouraged to develop her musical talents.
Her father introduced her to Venice's intellectual elite and showcased her talents to advance her career.
Giulio was a member of the Venetian circle of intellectuals known as the Accademia degli Incogniti ("Academy of the Unknowns"), which met to discuss and debate questions of literature, ethics, aesthetics, religion, and the arts. In 1637 Giulio formed a musical subset of the Incogniti, known as the Accademia degli Unisoni ("Academy of the Like-Minded,") for Barbara where she performed as a singer and suggested topics for discussion.
The Incogniti were early proponents of Venetian opera and Barbara was their leading light, singing for them and writing music for herself and others to perform. Click on the link to hear her haunting cantata – My Mourning sung by Pamela Lucciarini.
Barbara thrived in the society her father created for her. But her role as hostess of the Unisoni and her very public involvement in music were satirized in an anonymous manuscript that may have been penned by a member of the Incogniti; the author equated her status as a musician with the licentious behaviour of a courtesan.
A portrait of her by Bernardo Strozzi (not of the same family) has been interpreted as one implying she was indeed a woman of less than prefect morals and the fact that she never married but had four children rather suggests she was not considered good marriage material by the men she consorted with. Her two daughters became nuns and one of her sons became a monk.
Giulio Strozzi's proto-feminist sensibilities garnered Barbara an opportunity that would be closed to most women composers for centuries. Barbara published eight collections of her vocal works between 1644 and 1664, seven of which survive.
Barbara Strozzi was a woman ahead of her time — far ahead of her time, as it would still be several centuries before most women could have serious careers as composers. Strozzi published many volumes of music, which in itself indicates that her music was well received. Her compositional output following her first volume of madrigals consisted mostly of arias, cantatas, and ariettas. The arias are generally short strophic pieces (every stanza is sung to the same music), while the cantatas are mostly longer sectional works in which the music changes to suit the meaning of the text. For example, impassioned or pathos-ridden poetry might be set as recitative, whereas music with dance rhythms might be used for poetry with a lighter character. Most of the poetry centres on the theme of love, in a manner consistent with the Marinist aesthetic of the mid-17th century, which valued wit, linguistic virtuosity, and erotic imagery. Her one collection of sacred motets, the Sacri musicali affetti (1655), was linked to the notion of Christian caritas, which represents the church as a benevolent mother; the volume was also connected to the devotional practices of its dedicatee, Anna de' Medici, archduchess of Innsbruck.
Although she never married, Strozzi had four children; her two daughters joined a convent, and one of her sons became a monk. Barbara died in 1677 leaving behind a body of work praised for its wit, linguistic virtuosity, and erotic imagery.
Sources : Rebecca Cypess Encyclopedia Britannica
Barbara Strozzi
QUICK FACTS
BORN 1619
Venice, Italy
DIED November 11, 1677 (aged 58)
Padua, Italy
RELATED BIOGRAPHIES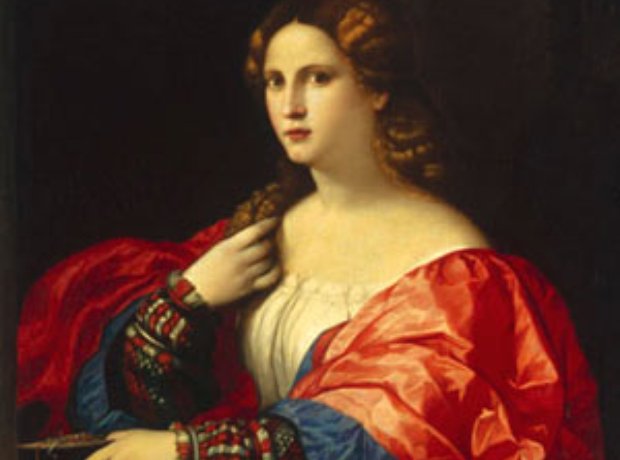 Francesca Caccini was born 18 September 1587 and was an Italian composer, singer, lutenist, poet, and music teacher of the early Baroque era. She was also known by the nickname "La Cecchina", given to her by the Florentines and probably a diminutive of "Francesca". She was the daughter of Giulio Caccini. Her only surviving stage work, La liberazione di Ruggiero, is widely considered the oldest opera by a woman composer.

Born 6 October 1591 – ca. 1638, Italy, Settima was a well-known Italian singer and composer during the 1600s being one of the first women to have a successful career in music. Caccini was highly regarded for her artistic and technical work with music. She came from a family of well-known composers and singers, with her father being Giulio Caccini and her sister Francesca Caccini. Steam Caccini was less well-known as a composer because she never published her own collection of works. Instead, nine works are attributed to her in two manuscripts of secular songs. Settimia was known much more for her talent as a singer, and she performed for nobility with the Caccini family consort and as a soloist. Coming from a musical family, she was able to lead herself to her own fame and success.
See Also:
Julia Herdman writes historical fiction that puts women to the fore. Her latest book Sinclair, Tales of Tooley Street Vol. 1. is  Available on Amazon – Paperback £10.99 and on Kindle Also available on: